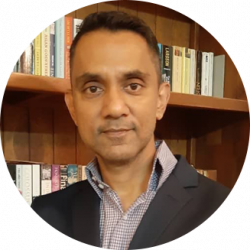 Pradeep Padmanaban
Managing Partner
Portfolio Manager
Pradeep brings a wealth of expertise to the investment field, amassing more than 20 years of experience. With a strong background in equity research, he has successfully transitioned into prominent investment management roles at renowned global institutions such as Credit Suisse and BNP Paribas. Pradeep holds a Bachelor's degree in Economics and Social History from the University of Exeter (United Kingdom) and further fortified his knowledge with a Master of Science in Finance from the University of Leicester (United Kingdom).
Pradeep's professional journey has taken him across a multitude of prominent financial centers, including Hong Kong, London, Switzerland, Singapore, the Middle East, Kuala Lumpur, and Botswana. These diverse global hubs have provided him with a rich tapestry of experience in the realms of research and portfolio management. Over the course of his illustrious career, Pradeep has demonstrated his adeptness by successfully overseeing and managing funds for a diverse clientele, including high net worth individuals, corporations, and family offices.
Pradeep's approach to the markets is driven by his keen observation and unwavering belief in the importance of thorough fundamental research, coupled with strategic asset allocation. He understands that these factors are crucial in generating favorable returns for clients.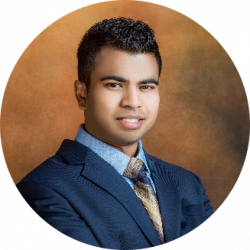 Khaveen Jey, FMVA
Managing Partner
Portfolio Manager
Khaveen brings a wealth of investment experience across various asset classes, including global equities, commodities, fixed income, foreign currencies, and real estate. Graduating with a Bachelor of Commerce from Monash University in Australia, with a specialization in economics, he has established a strong educational foundation. Additionally, Khaveen holds the designation of Financial Modelling & Valuation Analyst (FMVA) and serves as a Guest Lecturer for the Portfolio Management unit at Monash University, showcasing his expertise in the field.
Khaveen's professional journey encompasses diverse roles in wealth management and equity research, initially within the Aon Group. He has worked across Melbourne, Singapore, and Kuala Lumpur, garnering invaluable international exposure and perspective. He has a remarkable entrepreneurial background, having successfully established and subsequently sold a national e-commerce business in Australia to an Amazon subsidiary. His entrepreneurial mindset, coupled with his comprehensive understanding of business fundamentals, influences his astute management of both the company and the investment portfolio.
His expertise in equity research is particularly notable, with a focus on the global Technology Sector, particularly in the United States and China. Within this domain, he specializes in the ever-evolving Semiconductor Industry, vigilantly monitoring advancements in Artificial Intelligence, 5G, Cloud computing, Internet of Things, and Autonomous Vehicles. Khaveen adopts a holistic approach to portfolio management, skillfully integrating various analytical tools such as valuation, financial analysis, fundamental analysis, quantitative analysis, macroeconomic analysis, and industry research. This comprehensive methodology ensures informed decision-making and optimal investment outcomes for clients.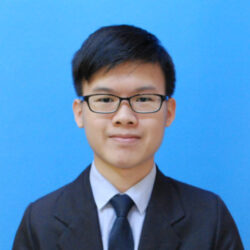 Anthony Goh
Vice President
Research Analyst
With a comprehensive background encompassing three years of dedicated research and analysis within the United States, EMEA, and Asia Pacific markets, Anthony has honed his expertise in evaluating companies. Holding a Bachelor of Business and Commerce degree from Monash University Malaysia, with a specialization in Accountancy and Banking and Financial Management, Anthony possesses a strong educational foundation.
His focal areas of proficiency lie within the dynamic Information Technology, Financial, and Consumer Discretionary sectors. Anthony delves into the intricate workings of industries such as Semiconductors, Tech Hardware, Software and IT, Fintech, and Internet Retail, diligently scrutinizing emerging drivers that hold immense transformative potential. These drivers include Artificial Intelligence (AI), Cloud Computing, 5G, and the Internet of Things (IoT), all poised to shape the future landscape of the global economy.
Drawing from his educational background and hands-on experience in equity research, Anthony has cultivated a profound understanding of pivotal financial aspects, including financial modeling, financial statement analysis, and forecasting. This robust skill set empowers him to unravel the complexities of financial landscapes with precision and deliver valuable insights.