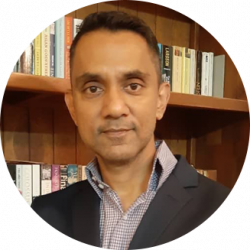 Pradeep Padmanaban
Managing Partner
Portfolio Manager
Pradeep has accumulated over 20 years of experience in the investment field. He comes from an equity research background and subsequently moved on to investment management roles for global investment banks, Credit Suisse and BNP Paribas. Pradeep holds a Bachelor's degree in Economics and Social History from the University of Exeter (United Kingdom), and a Master of Science in Finance from the University of Leicester (United Kingdom).
Pradeep has extensive experience in research and portfolio management across Hong Kong, London, Switzerland, Singapore, the Middle East, Kuala Lumpur, and Botswana. He is also versed in business having run an agricultural business in Malaysia.
His research experience includes coverage of the Industrials, Financials and Consumer Staples sectors, predominantly of the United States and China. He specializes in the global fintech industry. Pradeep is a keen observer of the markets and believes in solid fundamental research combined with proactive and well-timed asset allocation is crucial in generating returns.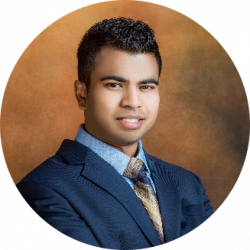 Khaveen Jeyaratnam, FMVA
Managing Partner
Portfolio Manager
Khaveen brings extensive investing experience in global equities, commodities, fixed income, foreign currencies, and REITS. He graduated with a Bachelor of Commerce from Monash University (Australia), majoring in economics. He holds the designation of Financial Modelling & Valuation Analyst (FMVA). His past professional experience spans the fields of wealth management and equity research.
Khaveen has a very entrepreneurial background, having established a national e-commerce business in Australia, which was subsequently sold to an industry competitor. His strong understanding of business fundamentals is utilized in the management of both the company and the investment portfolio. He has worked across Melbourne, Singapore and Kuala Lumpur.
His equity research experience includes coverage of the global Technology sector, predominantly of the United States and China. He specializes in the global semiconductor industry focusing on advancements in Artificial Intelligence, 5G, Cloud, Internet of Things and Autonomous Vehicles. Khaveen takes a comprehensive approach to investing, applying valuation, financial statement analysis, fundamental analysis, technical analysis, macroeconomic analysis and industry research.