Optimizing the Innovation of Technological Evolution
At Khaveen Investments, we recognize that technological evolution is an inevitable force shaping the business landscape. To remain agile and adaptable, we wholeheartedly embrace technological advancements. This approach enables us to effectively respond to changes in customer preferences, market dynamics, and industry disruptions.​
​
We also utilize technology to ensure our higher standards of data protection for all our clients, going above and beyond what is required by laws and regulations related to data privacy and secrecy. This involves ensuring the protection of individuals' personal information from unauthorized access, use, or disclosure. We are also committed to combating cybercrime, which encompasses various criminal activities such as hacking, malware attacks, identity theft, and phishing scams.​
​
To optimize the Innovation of Technological Evolution, we leverage digital technologies to optimize our business processes and operations. By integrating automation, artificial intelligence, data analytics, and cloud computing into our core operations, we streamline processes and enhance efficiency. This assimilation and integration of digital technologies enable us to effectively manage and leverage data, make informed decisions, and drive superior outcomes for our clients.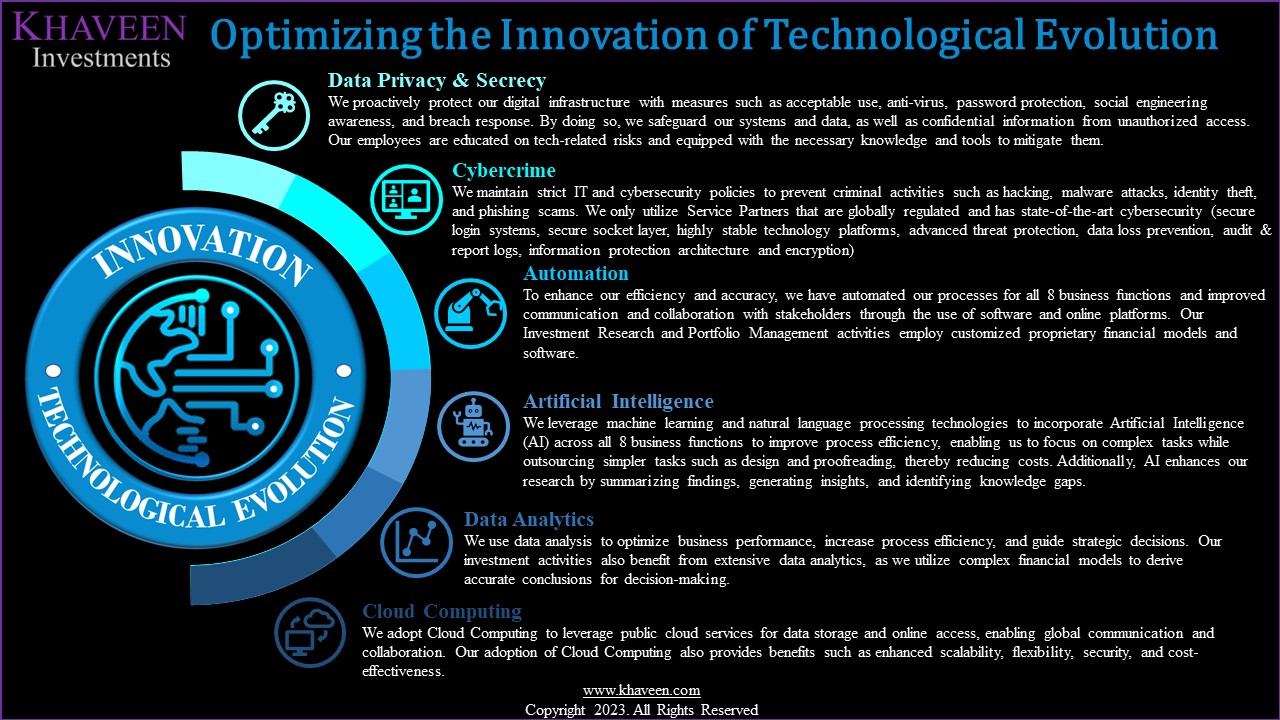 Protecting the Integrity of Capital Markets
At Khaveen Investments, we have a fiduciary obligation to act in the best interests of our clients. This requires us to invest in markets that are fair and transparent, and by safeguarding the integrity of capital markets, we can fulfill this obligation and deliver optimal investment results to our clients.​
​
To protect the integrity of capital markets, Khaveen Investments abides by all applicable securities laws and regulations, including those that address insider trading, market manipulation & misrepresentation, financial reporting & due diligence, money laundering and terrorism financing, bribery and corruption, fraud and embezzlement, and counterfeiting and forgery. This is achieved by implementing strong policies, procedures, and controls that can detect and prevent financial crime. The Company has adopted the CFA Institute Code of Ethics and Standards of Professional Conduct and the CFA Institute Asset Manager Code for its investment activities, which promotes an ethical and honest culture. Khaveen Investments has comprehensively implemented sound policies, procedures, and controls to prevent financial crime.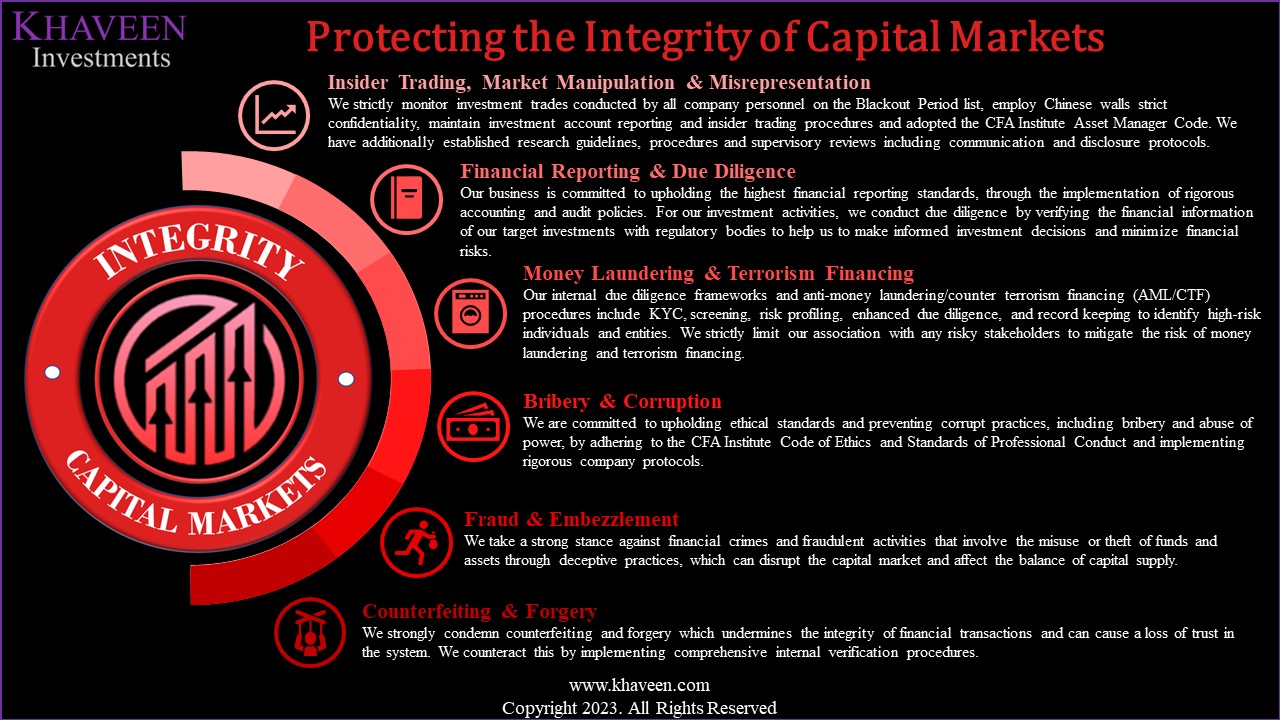 Upholding the Liberty of Free Economy
Upholding the Liberty of Free Economy is a fundamental principle at Khaveen Investments. To honor this commitment, we prioritize the efficient allocation of resources within free markets by embracing globalization. This allows us to promote fairness and equal opportunity by selecting stakeholders of the company, including employees, suppliers, and service partners, without discrimination and based on their merits, rather than being hindered by unnecessary barriers or unfair advantages.​
​
By upholding the principles of a free economy, we benefit from increased opportunities, market efficiency, and overall economic development. The free economy stimulates innovation and encourages us to adapt to changing market conditions. This drives us to continuously improve our services and expertise to the benefit of our clients.​
​
We fully embrace and uphold internationally recognized human rights, including those outlined in the International Bill of Human Rights and the International Covenant on Civil and Political Rights (ICCPR). These principles protect against discrimination based on various factors such as sex, race, ethnicity, nationality, religion, age, disability, mental illness, sexual orientation, gender identity/expression, sex characteristics, creed, or individual political opinions, as well as promoting civil and political rights.​
​
We also recognize the significance of the International Covenant on Economic, Social and Cultural Rights (ICESCR), which acknowledges economic, social, and cultural rights. These include the right to self-development liberty, an adequate standard of living, education, health, and economic participation.